A Mother's Fearless Heart

Community

Courage

Society
July 31, 2013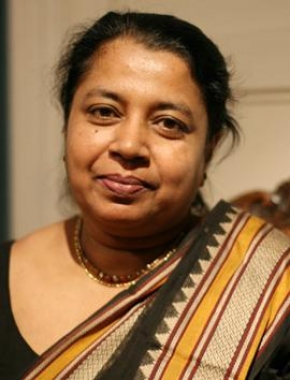 Visaka Dharmadasa has dedicated her life to building peace by connecting with mothers on both sides of violent conflict. Despite initial suspicion from both armed soldiers and beareved mothers of the Sri Lankan civil war, Ms. Dharmadasa managed to build bridges of trust through a courageous commitment to dialogue. As part of our ongoing series of articles exploring the virtue of courage, we would like to share the following interview with Visaka Dharmadasa, founder of the Association of War Affected Women. The interview was originally published in the July 2012 issue of SGI Quarterly.
---
"A Mother's Fearless Heart"
From an interview with Visaka Dharmadasa
This May marked three years since the end of the bitter 26-year civil war between the Sri Lankan government and the Liberation Tigers of Tamil Eelam (LTTE). Visaka Dharmadasa had two officer sons in the Sri Lankan army. In 1998, her younger son was among 600 soldiers who went missing after a battle near the town of Kilinochchi. His remains were never recovered. For Visaka, it was the beginning of open-ended, agonizing uncertainty. She rallied other mothers to lobby the military to help trace the missing, forming the nonprofit group Parents of Servicemen Missing In Action. Visaka also began to seek ways to bring the conflict to an end so that other mothers would not have to experience the pain she endured and later founded the Association of War Affected Women. Here, she describes her efforts to engage the enemy in dialogue.
Visaka Dharmadasa (Sri Lanka)
Mobilizing Mothers for Peace
We requested permission to go to the LTTE area. Finally, after much difficulty, the Ministry of Defense gave a letter to our organization saying that we can go to Wanni. Seven mothers went to meet the LTTE. I can still remember someone from the Ministry of Defense telling me, "You don't know who you are dealing with, they are not human beings. Don't go there."
We traveled in a van. There were youngsters around us on bicycles with automatic guns hanging from their shoulders. They started riding around our van. We were all women, except the driver. Their husbands and families trusted me and let those mothers come with me, so it was an enormous responsibility. But I never felt scared for a moment. I don't know why.
We didn't go pleading that they have to pity us. That was not our approach. What I told them was, "As much as you are proud of your striped uniform, we are very proud of plain color uniform. Things have happened on both sides." They told me of all the bombings and all the atrocities they had experienced, and I said, "I can also talk about bombings which have killed thousands of innocent people. But that will not solve the problem. The problem will only be solved if we sit and talk, and that's what we have come here for." We stayed there for five days and we bonded as mothers and sons. We were able to come back and tell people that it is not as it is portrayed. They are human beings.
For me, a child's life, no matter what color the uniform, is very precious. Because of that, both sides respected me for what I stood for and never for a moment tried to use my moving back and forth to and from the LTTE areas to bad advantage.
When LTTE committed human rights violations, when they killed unarmed policemen, I walked into their office and scolded them. I told them, "If you are going to do these things, if you are going to ask for justice, then you have to practice it." I did this. I didn't have much to lose.
The definition of security has to be articulated as women see it. And how I define security is, "if you want to be secure, make your enemy secure, because then the enemy will not be an enemy anymore."
If you know that what you are doing is right, no one can make you scared. We walked into the LTTE office not to hurt but for the benefit of everybody. Maybe they didn't understand the first time or the second time or the third time. But by the fourth time, they definitely understood. That's why they opened the doors to us without even checking us. They trusted me, because I was doing what was right, as a mother. If your conscience says it is right, then there is no fear.